Preston kidnappers in £100k blackmail plot jailed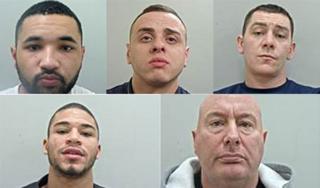 Four "thugs" who kidnapped a man, beat him and tried to blackmail his brother for £100,000 have been jailed.
The unnamed victim had his hands tied and was bundled into a car boot near his home in Preston, Lancashire, on 25 January, police said.
Police said the gang told his brother if he did not pay the money they would cut the victim up or drown him. The victim was released the following day.
They received sentences of between 12 years and eight years and four months.
Three men from Preston - Luke Anderson, 25, of Samuel Street, Aaron Hampson, also 25, of Pump Street, and Stephen Helm, 35, of Stockdale Crescent, were jailed for 12 years each after being found guilty of conspiracy to kidnap and conspiracy to blackmail.
Jordan Fowler, 21, of no fixed address, was jailed for eight years and four months after admitting conspiracy to kidnap, conspiracy to blackmail and assault.
A fifth man, Christopher Darragh, 50, of Princess Street, Preston, who admitted perverting the course of justice following his sale of the car used in the kidnap was jailed for six months.
'Violent thugs'
Police said the victim, in his 30s, was taken to a remote location at Shuttling Fields Lane, near Preston, during his 15-hour ordeal and threatened with an axe, beaten and forced to remove his trousers.
Fowler then bought a SIM card and contacted the victim's brother to make demands of £100,000 for his release.
Police said the victim was kept in the car boot overnight. He was released at 11:30 the following day when Fowler demanded he get out of the vehicle in Hoghton before crashing it into another car.
Det Supt Dave Brooks, from Lancashire Police, described the gang as "violent thugs".
"Not only did they kidnap this man and physically attack him, they also made threatening calls to his brother making demands for an extortionate amount of money which he would not have been able to pay.
"I cannot imagine the fear both him and the victim must have felt."