Lancashire school dinner halal row faces legal challenge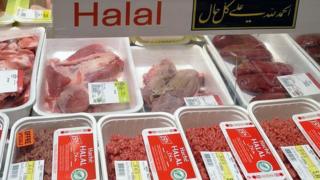 Plans to ban schools from serving unstunned halal meat have been delayed pending a legal challenge.
Lancashire County Council made the decision to stop using the meat in 27 council-run schools in October, saying it was "cruel" to not stun animals before slaughter.
Lancashire Council of Mosques is now seeking a judicial review claiming the authority did not consult adequately over the decision.
The council is investigating the claim.
Council leader Geoff Driver said: "If it is felt that we haven't consulted appropriately before we made the decision we will do that because we clearly don't want to either break the law or cause the county council any unnecessary expenditure."
Lancashire Council of Mosques said the decision, which was due to take effect from December, meant the council would stop providing meals "in accordance with the universal criteria of halal".
Its chief executive officer Abdul Hamid Qureshi said: "The council is bound to consult before making any decisions and there was no consultation.
"This adds to huge community tensions on our society."
Unstunned halal meat is currently supplied to 12,000 pupils at 27 schools in Blackburn, Nelson, Burnley, Rawtenstall, Hyndburn, Clitheroe and Preston.
On 26 October, a meeting of the full council backed a move not to provide meat to any of its kitchens "unless the animal was stunned before it was slaughtered".
More than 80% of halal meat in the UK is pre-stunned and is acceptable to many Muslims, according to the British Veterinary Association.