Dick, Kerr Ladies Football Club: Memorial unveiled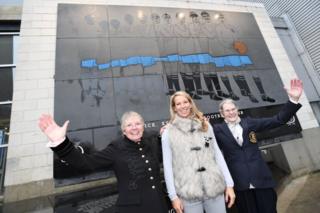 A plaque paying tribute to one of the most successful women's football teams has been unveiled in Lancashire.
Dick, Kerr Ladies FC was founded at a munitions factory in Preston in 1917.
They played their first game at Preston North End's Deepdale stadium on Christmas Day that year.
About 10,000 spectators attended and £600 was raised for wounded soldiers.
The 6m plaque was officially unveiled at the stadium on Friday.
The granite feature sits at the Sir Tom Finney end of the ground and includes the names of all the founding players, to coincide with the team's centenary.
It was unveiled by Gail Newsham, who wrote a book about the team, former Everton and England goalkeeper Rachel Brown-Finnis, and Sheila Parker, who started her playing career with the Preston team and went on to become the first captain of the England team in 1972.
In 1921 the Football Association banned the women's game, on the grounds that football was "unsuitable for females and ought not to be encouraged".
Despite the ban, the side continued to play across the world and chalked more than 200 games without defeat.
They disbanded in 1965, four years before the Women's Football Association was formed, due to a lack of players.
A previous memorial was unveiled earlier this year in Preston.