Wanted man goads Lancashire police after Facebook plea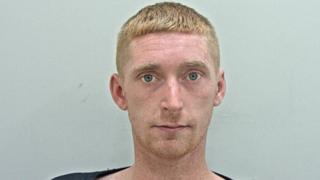 A wanted man has told police appealing to trace him on social media to "mind your own business".
Preston Police wrote on Facebook that they wanted to speak to Jamie Murphy, 30, over a domestic assault allegation.
The post was widely shared and commented on, prompting Murphy to respond: "Ppl [people] want to mind their own business."
A sergeant then replied: "Do as Carol Martin says and 'man up' and hand yourself in. If not we will find you!"
The appeal was posted on the Preston Police Facebook page at 10:30 GMT on 3 January.
It read: "We want to speak with Jamie MURPHY, a 30-year old man from the Trees Estate & Moor Nook areas of Preston about an allegation of domestic assault that occurred in November 2017."
After Murphy responded, the sergeant wrote that efforts had been made to warn him they would launch a social media appeal and that the situation "will not go away".
They added: "Do the right thing and come see us. I will even get the kettle on. If not Sgt Hesketh is back on duty in the morning and I'm sure he will ring you for a chat. Failing that, see you when you get arrested."
They later wrote: "77,000+ people have seen this post now after keeping such a low profile, Jamie. We'll see you soon."