Blackburn woman hit in face with wooden plank containing nails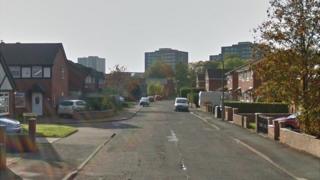 A boy has been arrested after a woman was hit in the face with a plank of wood with nails sticking out of it.
The 51-year-old was attacked on Belper Street, Blackburn at about 07:00 GMT on Friday, Lancashire Police said.
She had the keys to her work - which was later broken into - stolen along with her mobile phone. She remains in hospital with serious injuries to her face and broken bones in her hands.
A local 14-year-old is being held on suspicion of burglary and robbery.
Police said money was taken from the newsagents where the woman works on Pelham Street.
Appealing for information, a force spokesman said the victim had suffered a "horrific and unprovoked attack" which had left her with "some horrendous injuries".