Knott End ferry service saved for the next eight years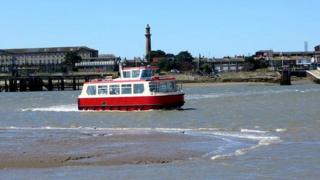 The immediate future of a threatened ferry service described as a "community lifeline" has been secured.
Wyre council said a new operator had been given an eight-year contract to run the Fleetwood to Knott End ferry.
It said it and Lancashire County Council would subsidise the service - which has run since 1894 - for the first four years on a 50:50 basis.
The service, linking Knott End, Pilling and Preesall with Fleetwood, must then be self-sustaining, Wyre council added.
As part of its latest spending cuts, the county council had planned to entirely withdraw its subsidy of the ferry.
Wyre Council said: "Back in March, [we were] determined to save the ferry running and find a new ferry operator.
"Now, the new supplier will operate the ferry under an eight-year contract, offering a year round, seven days a week service, similar to the current service."
The council is transferring the ferry's ownership "under a mortgage arrangement" which will see the vessel become the responsibility of the operator who will assume full ownership at the end of the eight-year deal.
Campaigners have described the ferry service was "a lifeline for many locals of Knott End and surrounding areas of Over Wyre who do not have transport".
The sailing lasts minutes, compared to an hour-long journey by road across Shard Bridge to Fleetwood.
The first official ferry service began in 1894 although fishermen had previously taken passengers across the Wyre.