South Ribble councillors reject ban on them boozing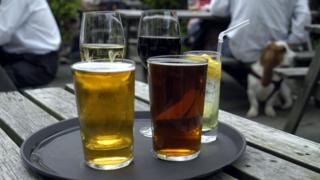 Councillors have rejected a ban on them drinking alcohol after claims some of them were under the influence at a meeting.
Councillor Paul Wharton's proposal that South Ribble Council change its rules to ban boozing on official business was voted down at Leyland Civic Centre.
He said the motion was triggered by two colleagues allegedly turning up "smelling of alcohol" before Christmas.
But council leader Peter Mullineaux said they were "wild and false claims".
Mr Wharton, from South Ribble Independents, said he hoped to change the constitution because "it's just wrong".
"Any amount of alcohol impairs your judgement," he said.
"We are making decisions that affect residents, multi-million pound decisions which affect taxing people, and you should be of sound judgement and sound mind while doing that."
'Deeply upset'
Asked how the guidelines would be policed and whether councillors would be breathalysed, he said: "I don't think that is a good idea. It needs to be people's own self-judgement."
Mr Wharton said he did not intend to suggest that "all councillors are drunk".
The motion "was written to make sure that there were no accusations made about any individual councillors".
"It was basically to strengthen people's respect for councillors," he said.
Mr Mullineaux said: "To suggest that councillors have turned up to meetings drunk is just ludicrous.
"Councillors in South Ribble work extremely hard for the people of the borough and to make accusations such as these is troublemaking at its best.
"Our councillors are upstanding members of the community who work hard and are deeply upset and hurt by these wild and false claims."