Two suffer burns in explosion at house in Farnworth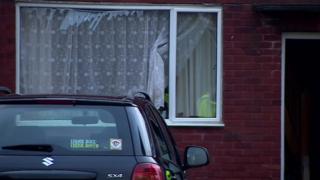 Two elderly people have suffered burns in a suspected gas explosion in Bolton.
Several properties were evacuated following the blast in Rydal Grove in Farnworth, Greater Manchester Fire and Rescue Service said.
A man in his 70s is in a serious condition at Wythenshaw Hospital and another person is injured.
One witness told the Manchester Evening News how he and a friend managed to get the pair out of the house, where "the smell of gas was overpowering".
Ashley Chalke described how he and Nathan Wallwork went to help after hearing the explosion and seeing that a window had been blown out.
"We knocked on the door and managed to get the man out. Then we shouted for the woman and got her out of the house too," he said.
"I tried to turn the gas main off but couldn't do it. The smell of the gas was overpowering."
Gas network Cadent, which is responsible for supply in the area, said engineers had isolated the gas supply to the property.
They have also checked the gas mains in the street along with the service pipes and they were "all sound".
The fire service said it had used a gas monitor to survey the area to ensure no further incidents would occur.
Two ambulances, a hazardous area response team, paramedics and the air ambulance were sent to the property after the explosion was reported at 14:35 GMT.
A cordon remains in place.
Councillor Sue Haworth tweeted: "Emergency response still on-going to ensure the safety of the properties in the area. Exemplary response from police, fire & air ambulance. Sadly two casualties."