Blackpool FC 'not under threat' in £20m debt case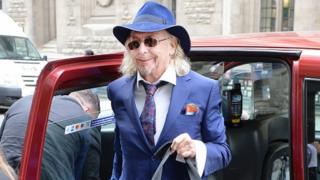 A former director of Blackpool FC's proposed "course of action" to get £20m he is owed would not threaten the club, the High Court has heard.
Latvian businessman Valeri Belokon won a High Court battle in November against owner Owen Oyston and his son Karl, who were ordered to buy him out for £31m.
London's High Court heard the pair missed a £10m payment on Wednesday.
Mr Justice Marcus Smith told Mr Belokon he can now pursue whatever legal methods he thinks fit to force payment.
Andrew Green QC, who led Mr Belokon's legal team, told the judge: "The course of action we propose does not involve any threat to the club."
Mr Belokon, who bought a 20% stake in Blackpool 12 years ago, complained of being excluded from key decisions and shares of profits by Owen, Blackpool's majority shareholder and his son Karl.
Karl stood down as club chairman and director on Friday and was replaced as chairman by his sister Natalie Christopher.
Mr Justice Smith had said the Oystons could pay Mr Belokon's company VB Football Assets money in stages.
The first instalment of £10m was paid in December with further payments due on 31 January, 30 March and 31 May.
Mr Belokon's lawyers told the follow-up hearing earlier the latest deadline had been missed and more than £20 million was still owed.
Luxury cars
Mr Justice Smith concluded his attempt to "control the enforcement process" had failed.
The judge heard the Oyston family owned assets including property and luxury cars.
Lawyers representing the Oystons said they were "asset rich" but "cash poor" and needed time to raise the money.
They failed to get an extension on a deadline for the latest payment and Mr Justice Smith said Mr Belokon could now pursue whatever legal means he thought fit to force payment.
Mr Belokon resigned as a director of the club in August.
Karl's son Sam Oyston was appointed as the club's new chief executive last month.