Clayton Hall: 'Awful stench' sees site stopped from taking waste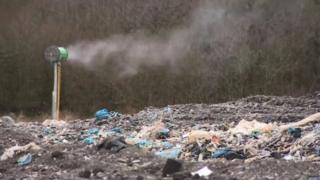 A landfill site has been stopped from taking any more waste after numerous complaints from people living nearby about the "awful stench".
The Environment Agency said the Clayton Hall site, near Chorley, was "on hold" after an enforcement notice served in January did not lead to improvements.
Operator Quercia said they were committed to stopping the odour.
A spokesman said the company planned to install "a plastic cap, which will cover and seal the affected area".
The site has been the subject of a number of protests by local residents, with the latest taking place on Sunday.
Parish councillor Mark Clifford said it has an "awful stench", while local resident Chris Hopper said the smell had "been an issue for a long time now and it can be horrible".
"I drove past the site last week and the stench was horrendous, even from inside the car," he said.
Environment Agency manager John Neville said addressing the issues should be an "absolute priority" for the operator and the lack of improvements was "unacceptable".
"Further action is now required without delay," he added.
More than 1,000 air monitoring samples have been taken around the site.
Public Health England said it did not expect any long-term health consequences but some mild short-time effects, such as possible eye irritations, were possible.
Chorley Council and Lancashire County Council asked for the findings of the Environment Agency's investigation at the site to be made public.
Quercia said it had submitted the plan to install a cap to the Environment Agency, which it hoped would solve the problem.