Amelia Crichton: Mother found guilty of baby murder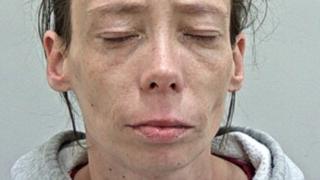 A woman has been found guilty of murdering her "helpless and vulnerable" seven-month-old daughter.
Jennifer Crichton, 35, launched a "violent physical assault" on Amelia after a social worker left her alone with her daughter in Leyland, Lancashire.
The baby, who had spent six months in intensive care after being born prematurely, died two days later.
Preston Crown Court was told Crichton will be sentenced at a later date.
The court heard Amelia was born "on the cusp of life" at 24 weeks weighing 570 grams.
After she was discharged from intensive care, she lived with her mother under a care plan devised by Lancashire County Council.
On 19 April, a social worker visited Crichton at her home, the court heard.
Asked to take over feeding of the baby, Crichton replied: "No, you do it," and went for a cigarette.
The social worker eventually left but an hour and 20 minutes later, Crichton called for an ambulance.
Amelia had suffered injuries including bleeding to the brain, damage to her brain stem and a fractured skull.
Paramedics resuscitated her on her way to Royal Preston Hospital, but she was transferred to Royal Manchester Children's Hospital for specialist treatment.
On 21 April, doctors concluded Amelia would not recover from her "catastrophic" injuries and withdrew life support.
Medical experts concluded she had faced a "violent physical assault" as a result of "striking or throwing" against a hard surface, and had been shaken.
Crichton offered no explanation, other than to say her baby had "collapsed", the court heard.
She faces a mandatory life sentence, with the minimum term to be set after the judge hears the results of a psychiatric report.
Amelia's grandmother Sally Quested said outside court: "Amelia fought really hard for life only for her mother to take it away from her."