Pendle threatens to break from Lancashire County Council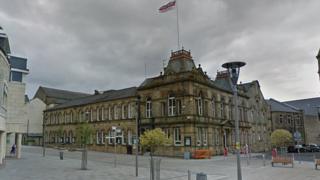 A borough's councillors have threatened to break from their county council because the authority "thinks the world doesn't extend" to their area.
Conservatives want Pendle Borough Council to become a unitary authority, giving it added education, transport and social care powers.
Supporting the plan, Labour's Mohammed Iqbal said Lancashire County Council think the area "is on another planet".
County council deputy leader Albert Atkinson said the idea was "rubbish".
Pendle Borough Council currently organises services such as bins, recycling, parks, tourism and burials.
It collects council tax, but only keeps a portion and hands the rest to Lancashire County Council.
Recognising the size of the borough, councillors propose that as a unitary authority, they would partner with another Lancashire or North Yorkshire council to provide some services.
'Goodbye from us'
Pendle's deputy Conservative leader Paul White, said he was "hopeful the government will allow us to do it".
"Obviously we would have to present a case to the secretary of state, [but] there is clearly a need for local government reform in Lancashire - we have a fragmented system at the moment."
He added that he was "hopeful the government will see it as a positive step", particularly if they were able to show they could "make savings without having to cut front-line services".
Mr Iqbal said the move was "a warning shot across their bows", because Pendle was "at breaking point" over cuts made by the county council.
"Unless there is drastic changes, we will not be the only one lining up to say 'It's goodbye from us'," he added.
Dismissing the idea, Mr Atkinson said it would "cost a fortune as Pendle is just too small".
"Quite frankly, I would be very surprised if the government give it much credence," he said.