Preston's tweeting bollard in line for award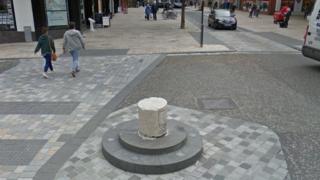 A concrete bollard has become a bizarre entry on the shortlist for a city's business awards.
The bollard in Preston, Lancashire, is known for being regularly knocked over and has become something of a landmark in the city.
A Twitter account set up in tribute to the post has amassed 2,500 followers.
The person behind the account said they were "knocked out" to be nominated, adding "not for the first time".
They added the bollard had "always been overlooked, especially by rail replacement busses".
Almost 48,000 people voted for the eight finalists of the City Star Award run by the city's Business Improvement District (BID).
Asked why they started tweeting, the account holder, who wants to remain anonymous, replied: "Twitter is like Fishergate - a shared space, but less dangerous and people know how to use it. And I'm not really one for stony silence".
Fellow finalist Ed Walker, who was nominated for Blog Preston, which he edits, said: "I've never been up against the bollard before, although I know many drivers have.
"I wish the bollard the best of luck. It has certainly become a semi-regular feature of Preston life, when it's not rolling down Fishergate Hill that is."
BID manager Mark Whittle said the award is "for things people have an affinity with".
Other nominees include the owner of the city's Guild Hall and a local police community support officer.
You may also like
So what happens if it wins?
"The bollard, through its communication channels - this sounds really strange - talks to a lot of people and has a really active social media presence," Mr Whittle said.
"It would be invited [to the ceremony]. Who knows what might happen".
The Smiles Better Awards ceremony will be held on 20 March as part of the Lancashire Business Festival.