Lathom solar plan queried over suspected WW1 horse graves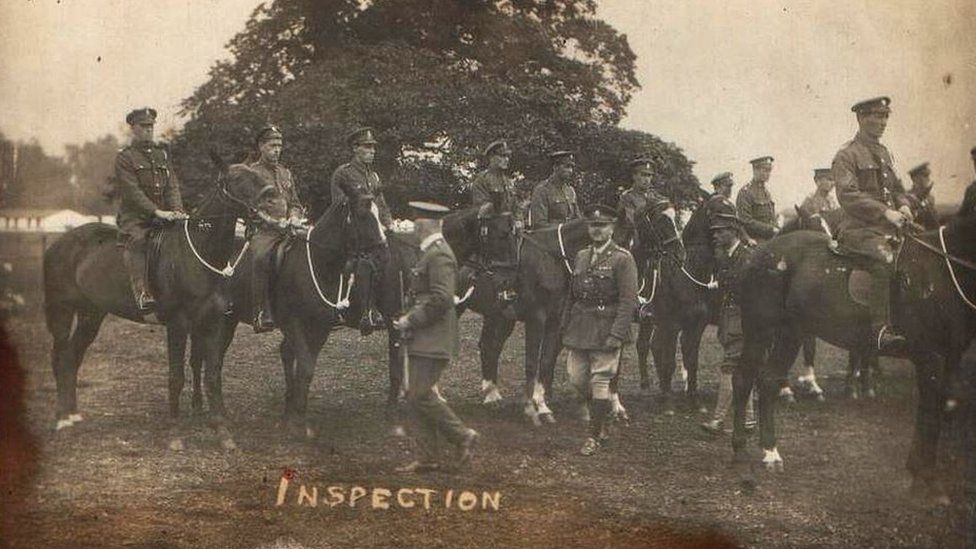 Concerns have been raised over an idea to build a solar plant on a site some believe holds the graves of horses that served in World War One.
The field on which solar projects firm Lightsource propose building was part of Lancashire's Lathom Park estate, where 215,000 horses were trained.
Lathom Park Trust's Paul Kenyon said it was "a disgrace" as "probably several hundred" horses were buried there.
Lightsource BP said a survey had found "no evidence to suggest horse burials".
The plant is proposed to power glazing manufacturer NSG Group's European Technical Centre, which lies alongside the site, though no planning permission has been sought.
Lathom Park, near Ormskirk, was the second largest of the remount depots during the 1914-18 conflict.
Mr Kenyon said it was common practice for the Army to bury horses and there were "dips in the landscape" which showed "where these mass graves are".
"The field, to my knowledge, has never been ploughed [and has] always been pasture as a mark of respect," he said.
"I know the burials were 100 years ago, but if this were a cemetery where soldiers were buried, it wouldn't be allowed.
"These horses served their country just as much, so some respect should be shown."
Lathom and Burscough Military Heritage Society's Richard Houghton said the majority of horses there were "taught to work within harness to pull wagons and guns".
He said it would be "insensitive to site panels upon land holding graves, given the reason why they come to be there in the first place".
And he said the fact that the field has never been ploughed "speaks volumes".
A Lightsource BP spokesman said a geophysical survey found "no evidence of horse burials", but did discover evidence of stables and other structures, making it likely burials happened elsewhere "for reasons of hygiene and safety".
He added that the company had been "sharing plans for the site with the local community [and] the vast majority of the feedback has been supportive of our proposal".
Related Internet Links
The BBC is not responsible for the content of external sites.