Referee, 15, 'let down' by Lancashire FA in abuse investigation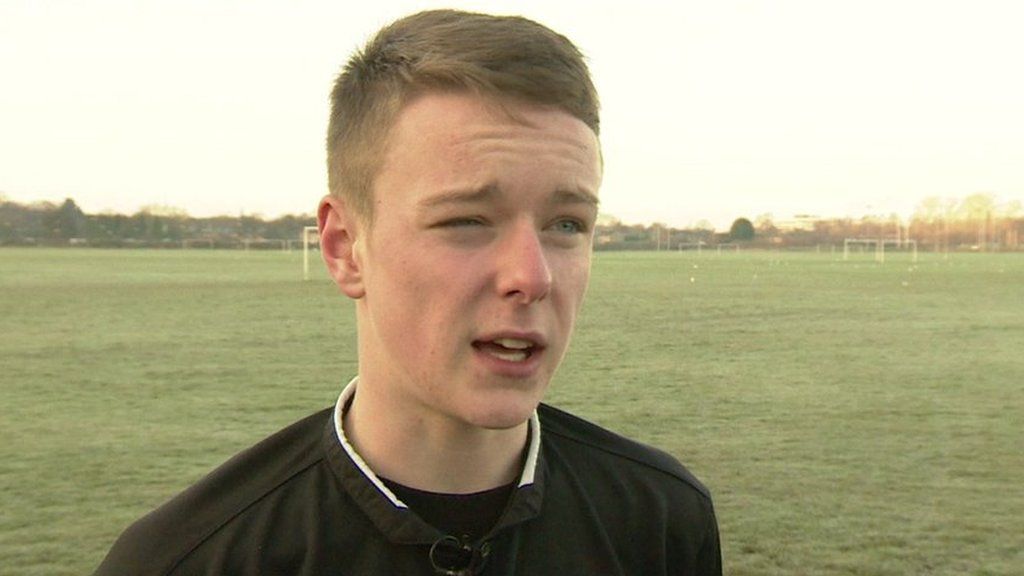 A junior referee was "badly let down" by FA officials after he reported being verbally abused by adult coaches, a grassroots campaigner has said.
Max Ormesher, 15, said he was scared to give evidence in front of the men but was warned he could face a misconduct charge if he failed to appear.
Ryan Hampson, 19, who led a strike over the treatment of referees, said the FA "should hang their heads in shame".
Lancashire FA denied threatening the boy and ruled the case "not proven".
Lostock Hall Juniors were playing Penwortham Town Juniors in an under-11 friendly in Preston last October when tempers flared over an offside decision.
Max, in charge for only his third game, included the alleged intimidation in his match report and was later summoned to an FA panel along with the three adults.
He was eventually allowed to give evidence via video link but Mr Hampson said the youngster was "badly let down" by the FA.
"They should be supporting him rather than threatening him with a misconduct charge.
"He was too intimidated to face these three adults. He said one even followed him at half-time and told him he didn't know the game."
Mr Hampson, who organised a strike of 2,000 refs after being head-butted, spat at and punched as an official, became involved in the case as ambassador for charity Ref Support UK.
When he he emailed Lostock Hall Juniors over the incident, he was given his own misconduct charge for "not acting in the best interests of the game".
"The way the FA has handled the whole thing is disgusting," he said. "They should be doing all they can to supporting refs."
Max's father, Graham Ormesher, from Preston, said: "Max has been treated very shabbily by the FA.
"They talk about protecting refs but it's just lip service."
Lancashire FA's chief executive Roger De Nobrega said the 15-year-old was "not threatened" with misconduct.
"The young referee was informed there was a possibility he could be charged if he did not appear."
Related Internet Links
The BBC is not responsible for the content of external sites.