Fire leaves 12 stranded at top of Blackpool Tower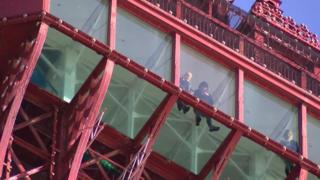 Twelve people were stuck at the top of Blackpool Tower for nearly four hours after a fire broke out on the roof of its famous ballroom.
The fire service said it was called to the attraction at 12:40 GMT.
The tower was evacuated as a precaution while the fire service told those at the top to stay in the glass viewing platform while it tackled the blaze.
The fire service said the fire was now out and people held at the top - 380ft (116m) high - had been brought down.
Kate Shane, general manager at the tower, confirmed the fire broke out on the roof of its ballroom, which is the annual venue for an episode of BBC One's Strictly Come Dancing.
Smoke could be seen rising from the base of the attraction.
Lynne Buckland, who was stuck at the top of the tower, said: "We are a bit fed up but at the end of the day we've got fantastic views and they are keeping us refreshed."
"Everyone has been fantastic and we had to make the most of it."
Bank Hey Street was closed while the fire was tackled, Lancashire Police said.
There have been no reports of any injuries.