Burnley's Hameldon Community College 'recommended for closure'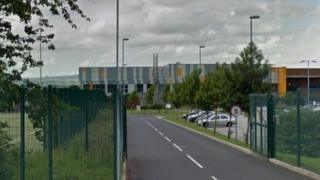 Plans to close a struggling secondary school in Lancashire could be signed off at a council meeting next week.
A consultation into the future of Burnley's Hameldon Community College was launched last year because of falling pupil numbers.
The Burnley FC in the Community charity previously expressed an interest in running the site as a free school.
However, the school's closure has been recommended ahead of a Lancashire County Council meeting on 12 April.
The authority said it maintained a "firm intention and commitment" to providing the best possible education.
Susie Charles, cabinet member for children, young people and schools, said the school had recently received another "inadequate" rating from Ofsted, was running at a financial deficit, and had very low attendance figures.
She added: "These three factors are the main reasons why cabinet needs to consider the future of the school."
If approved, a phased closure would start in August with the college completely shutting on 31 August 2019.
Pupils in years 7, 8 and 9 would move to different schools in September 2018.
Year 10 pupils would stay on to complete their syllabus ahead of the complete closure.
Council documents published ahead of the meeting indicate the council could continue to face costs of £4.1m a year as the building of the school was funded by a private finance initiative.
These contracts involve private consortiums building facilities such as schools, hospitals and roads, in return for regular council payments over several years.
The council would remain committed to the contract for the next 14 years unless the site continued to have an educational use.
This could involve another local school expanding onto the site, the documents say.