Ex-Lancashire councillor Tony Jones thanks Labour rival for saving life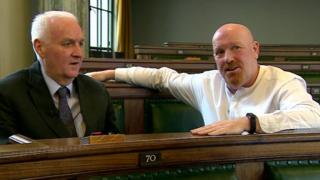 A former Conservative councillor has thanked a Labour colleague for saving his life when he had a cardiac arrest during a council meeting.
Tony Jones was a Morecambe North councillor when he collapsed at a Lancashire County Council meeting in September.
John Fillis came to his rescue and performed life-saving CPR.
Launching a new CPR training programme, Mr Jones, who has now stepped down, said he was "terribly grateful".
Mr Jones, who has since had a quadruple heart bypass, returned to County Hall on Wednesday to thank Mr Fillis. He also thanked the council's facility manager Matt Dean and BBC Radio Lancashire political reporter Mike Stevens who both assisted in saving him.
He said he was told his pulse had stopped for 40 minutes and doctors told him he could have been left with severe brain damage had the trio not been so well trained.
Putting politics aside
"Without the quality of the CPR and the fact they had training and they put it into good use I may have survived in terms of heartbeat but mentally I wouldn't have been there," he said.
"And that would have been a terrible situation. I could not be more grateful to them."
Mr Jones had left the Tory group to serve as an Independent councillor a month before his collapse.
He said he could not remember anything about it, just being woken up nine days later in hospital.
"I remember making a speech and sitting down," he said. "I don't remember anything else at all."
Skelmersdale East councillor Mr Fillis said he glanced over during the meeting and realised "something was seriously wrong" and his "training kicked in".
Mr Dean, who was watching the live webcast, then arrived with a defibrillator.
Mr Fillis said: "We kept his systems going... until the ambulance crew arrived and we did it as a team."
Mr Jones added: "The best results in politics are achieved when people put politics to one side."
He urged people to sign up to a new campaign called Lancashire Lifesavers, which is providing free CPR training to thousands of people in April and May.
Lancashire County Council has invested £30,000 to install 40 defibrillators across the county and offers training sessions in conjunction with BBC Radio Lancashire and the North West Ambulance Service.