Sisters give birth in same night at Blackburn Birth Centre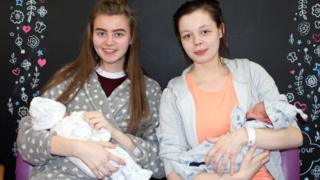 Two sisters gave birth within five hours of each other at the same birthing centre - with family members rushing between neighbouring rooms.
Libby Harris, 20, and her sister Lacey, 16, who are both from Darwen, Lancashire, gave birth at the Blackburn Birth Centre.
Lacey had daughter Lola-Mae, weighing 6lbs 4oz, at 23:42 BST on Wednesday.
Libby's son Joshua then arrived at 04:50 on Thursday, weighing 6lbs 12 oz.
Libby said it was "so lovely" to go through pregnancy with her younger sister.
"We can share all the experiences of new mums but being extra special as we're sisters," she said.
Senior midwife Gillian Brandon said it was "an unusual but exciting time for both the sisters and the staff involved".
"We send our best wishes to the sisters, their little ones and the family," she said.
Lola-Mae and Joshua are first children for both Lacey and Libby.