Council leader Geoff Driver 'intimidated' witnesses during probe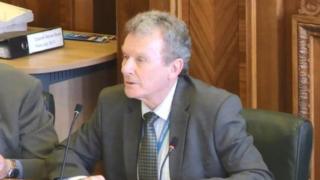 A judge has found "ample evidence" a council leader and three others tried to pervert a fraud investigation.
High Court documents reveal officers claimed Geoff Driver of Lancashire County Council sent emails deliberately designed to "intimidate, belittle and undermine" witnesses.
The investigation is centred on a £5m contract with One Connect Ltd, a joint venture between the council and BT.
Mr Driver said he has done nothing wrong.
The details emerged in a High Court judgment on a civil application by Gerard Fitzgerald against Preston Crown Court and the Chief Constable of Lancashire Police challenging the legality of search warrants in the investigation which an earlier court hearing had authorised.
They reveal that Lancashire Police said they had gathered evidence to show before his arrest Conservative councillor Mr Driver sent emails to a witness in a concerted campaign to undermine him.
It is also alleged that Mr Driver attempted to intimidate other principal witnesses.
In their warrant application, the constabulary claimed that seven laptops, six iPads and iPhones and a desktop computer belonging to one of the four suspects were either wiped or destroyed just days after he had been formally interviewed by police.
Another of the arrested men, former Lancashire County Council CEO Phil Halsall had allegedly advised Mr Driver to change the file format of computer documents to disguise their origins.
'Cover tracks'
Lancashire Police said the warrants, which authorised officers to search for any electronic storage devices, were issued "to prevent the deliberate deletion of data by suspects".
The documents also state that private email accounts relating to Mr Driver and three men were held offshore, outside UK jurisdiction, making it more difficult for detectives to access them.
In granting the warrant in May 2017, Judge Altham said these amounted to examples of "attempts to cover tracks".
In the latest hearing, which took place on 18 April at the High Court in London, one of the four who was the subject of the warrant application applied for a review into the granting of those warrants but the court found the application had been correctly decided.
However, Lord Justice Gross and Mr Justice Nichol, said they expressed no view as to the ultimate outcome of the investigation or as to any prosecution which might result.
The police investigation is continuing with the men remaining on bail.
Mr Driver said he has done nothing wrong but would be inappropriate to comment any further.