Terror-accused denies sharing Prince George details online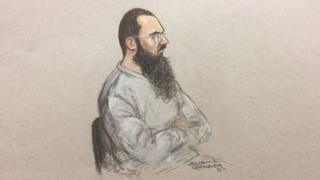 A man accused of sharing Prince George's school address with potential terrorists has pleaded not guilty to six terror offences.
Husnain Rashid, 32, of Nelson, Lancashire is an alleged supporter of the Islamic State group.
Woolwich Crown Court heard he is accused of posting the school address along with an image of the prince and a Jihadi fighter with the message "the royal family will not be left alone".
He is due to go on trial next month.
It is alleged Mr Rashid, of Leonard Street, planned to travel to IS territory and created several groups on the Telegram messaging application aimed at aspiring terrorists.
Among the allegations is the claim he had a map of Sixth Avenue in New York and posted a message stating "New York Halloween Parade. Have you made you preparations? The Countdown begins".
Mr Rashid is also accused of posting a photograph of the Burmese ambassador to the UK with the Burmese embassy address, saying "you know what to do".
He urged people to "fight and spill the blood to the apes in your land", with a message stating "start planning, start scouting targets, start monitoring entry/exit routes, start preparing tools and weapons/explosives", it is claimed.
Mr Rashid denied the following counts contrary to the Terrorism Act 2006 between October 2016 and November 2017:
preparing acts of terrorism
two counts of preparation to assist others to commit terrorist acts
encouraging terrorism
two counts of dissemination of a terrorist publication
He also denied failure to comply with a notice, contrary to Section 53 of the Regulation of Investigatory Powers Act 2000
The defendant is scheduled to go on trial at Woolwich Crown Court on 14 May.