Friends of the Earth seeks to challenge Lancashire fracking plan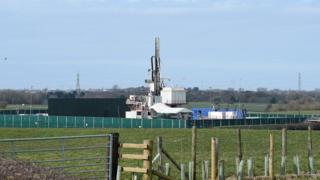 A charity is seeking a judicial review over a decision to allow fracking at a site in Lancashire, it has emerged.
Friends of the Earth has applied for permission to challenge the Environment Agency's decision to allow the process at Preston New Road in Little Plumpton.
Energy firm Cuadrilla completed drilling the first well at the site in April and is due to apply for final consent for fracking.
The agency said it was "unable to comment on ongoing legal proceedings".
The application was lodged at the High Court on 8 March and campaigners are now waiting for a decision, Friends of the Earth said.
They have also sent a letter asking Business Secretary Greg Clark to assure them that fracking will not be allowed while the challenge is considered.
The Environment Agency said Cuadrilla would provide a "high level of protection for people and the environment."
A spokesman said the company had been granted all necessary permits and it was "inappropriate" for Friends of the Earth to suggest there is any reason for the government not to grant full consent for fracking.
Other campaigners have previously lost appeals against fracking at the site.
The government approved the firm's plans for the site in Little Plumpton in October 2016.
Lancashire County Council had initially refused Cuadrilla's application in 2015 but it was granted following an appeal and planning inquiry.
What is fracking?
Hydraulic fracturing - or fracking is a technique designed to recover gas and oil from shale rock.