Saudi Arabia coach crash: Son demands answers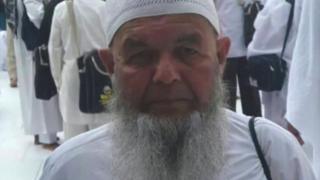 A man whose father died in a coach crash near Mecca has claimed he is being kept in the dark by the authorities in Saudi Arabia.
Sabir Hussain from Preston was on an Umrah pilgrimage on 21 April when his coach was hit by a fuel tanker and caught fire near Al Khalas.
His son, Bilal Mir, believes the crash occurred during an unscheduled detour. Four people were killed.
The Saudi embassy has declined to comment.
Mr Mir said: "I want to know exactly how it happened and why the route was changed.
"The road was not safe enough for the journey. That road has a high chance of an accident happening."
Twelve people were also injured in the incident which trip organisers Hashim Travel described as "horrendous".
Mr Mir said requests for updates into the investigation have so far failed to produce results.
"They should keep me informed and say 'this is our next stop to find details'.
Passengers on the bus were from Accrington, Preston, Birmingham, Wolverhampton, Northampton and Blackburn.
The Foreign Office said it is supporting British families of the victims and those who were injured in the accident.
Unlike the once-in-a-lifetime Hajj, the Umrah is a smaller, optional pilgrimage for Muslims.