Blackburn family thanks 999 call handler for 'helping to save dad's life'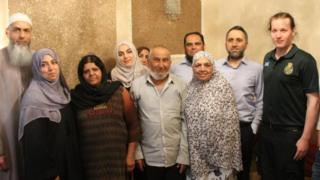 A woman who saved her father's life after he had a cardiac arrest has met the 999 call handler who talked her through performing CPR.
Adam Vali wears a pacemaker and collapsed in his home in Oswald Street, Blackburn, Lancashire, on 7 April.
His daughter Nasim Patel had never had CPR training, but was talked through how to do it by Josh Hayes.
Mrs Patel asked BBC Radio Lancashire at a Lancashire Lifesavers training session to help her thank him.
Mr Vali had an ICD (implantable cardioverter defibrillator) fitted and is now recovering at home.
Mrs Patel told Mr Hayes, who works for North West Ambulance Service, when they came face to face: "Thank you very much.
"Words can't be enough. It's nice for us to thank you in person."
Mr Hayes replied: "No worries. You did really well."
He stressed the importance of performing CPR in such situations.
"Once we started CPR it was effective. It is extremely important especially in those minutes before the help arrives," he said.
"There becomes a point where even shocking doesn't work... so every second counts."
Lancashire Lifesavers is a partnership between the BBC, Lancashire County Council and the North West Ambulance Service.
It was launched by county councillor Tony Jones, who was saved by a fellow councillor performing CPR when he had a cardiac arrest at a council meeting last year.
More than 3,000 people have been trained in CPR since the campaign was launched in April.