Preston's first student mayoress takes up post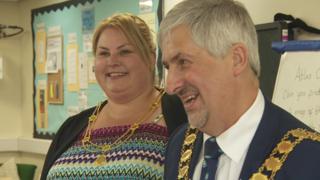 A student hospital worker has been chosen to become mayoress of her city after helping to care for the mayor's late wife.
Laura King was asked by Preston Mayor Trevor Hart to take on the role.
The 34-year-old medical student became a friend of the family after helping the mayor's wife, Claire, who suffered a brain tumour and died in 2016.
Ms King, who works in anaesthetics and helps patients' recovery, becomes one of the city's youngest ever mayoresses.
She said she was "honoured and privileged" to have been given the opportunity during a year out from her studies.
The year-long position will focus on representing the city and raising money for charities.
Ms King added that she would now have to buy a new wardrobe to "smarten herself up" for the new job.
The mayor said the new mayoress would "bring her background of caring, support and kindness" to the job.
Ms King officially took up the role last week and is the only student to become Mayoress of Preston.