Man arrested after dog's head found at Chorley house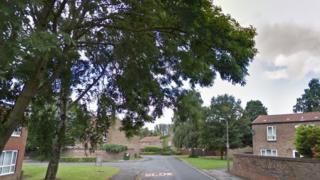 A man has been arrested after the severed head of a dog was discovered hanging on the door of a house.
Officers were called to the Great Meadow area of Chorley, Lancashire, after the occupier found the animal's remains on a door handle on Sunday.
A 26-year-old man from Lancaster was arrested on suspicion of burglary and animal destruction and bailed, pending further enquires.
The dog was believed to be a Yorkshire terrier, aged between five and seven.
A police spokesman said: "This was extremely distressing for the occupant... at this time, we have no idea why this has happened."
The man was arrested on Thursday and has been bailed until 20 June.
Anyone with information is urged to contact police.