Travellers leave '£100k mess' at Thwaites Brewery, Blackburn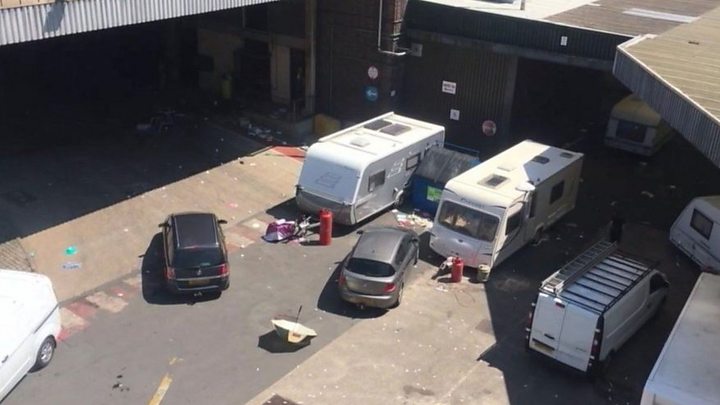 A group of about 100 travellers "trashed" a brewery causing damage worth about £100,000, the owners said.
Thwaites said the group invaded its site in Blackburn, Lancashire, on Saturday, damaging vehicles and using offices as toilets.
The brewery said 1,700 pints of beer had been poured away in case of contamination.
The group departed on Monday after an "aggressive stand-off". Lancashire Police said it is investigating.
Thwaites said staff who turned up for work were "effectively evicted" from the brewery's original Penny Street site, which dates back to 1807.
The travellers, who arrived with more than 20 caravans and 25 vehicles, caused "massive destruction", smashing windows and setting off fire extinguishers, it added.
Following intervention from police and with "co-operation from those on site", the travellers moved off on Monday afternoon, officers said.
Supt Andrea Barrow said: "When faced with incidents such as these Lancashire Constabulary considers all options available, which included working closely with brewery management to resolve the situation.
"In this case we negotiated with the travellers to encourage them to move, which they eventually did."
No arrests were made but the force said it is investigating a "significant amount of damage" and thefts.
Supt Barrow added: "We are continuing to work closely with the brewery and local partners and will seek to prosecute those involved in this mindless criminality."
The brewery said it was "relieved to have finally regained the site" which had been left in a "disgusting mess".
It is now assessing the extent of the damage and starting a "massive clean-up" operation, a spokesman added.
The brewery added it is currently unable to brew while the clean-up takes place.
Although Thwaites thanked the police for its assistance over a busy bank holiday weekend, chief executive Richard Bailey criticised them for taking a day and a half to get the group off the site.
"We would have liked the police to have used their statutory powers quicker... and they have the right to eject these people from our site.
"It wasn't until Monday morning that they started to talk to the travellers and really put some pressure on them to be removed."
Harry Brunt, a brewer at Thwaites, said it was outrageous it could happen and that there had not been a single arrest over the incident.
"Personally, and I speak for I think everyone in the company, I think it is absolutely disgusting... that not one person has been arrested."
Lancashire police and crime commissioner Clive Grunshaw has declined to comment to the BBC.
Sayyed Osman, director of environment, neighbourhoods and housing at Blackburn with Darwen Council, tweeted there was "no excuse for criminal damage and wanton vandalism".
He added it was a "totally unnecessary draw on emergency resources".