Blackburn sex attacker who broke woman's jaw is jailed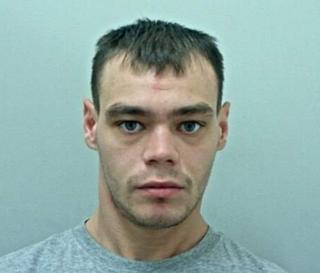 A man who broke a woman's jaw during a "brutal" sex attack has been jailed for 10 years.
Sam Carrington, 23, of no fixed address, savagely assaulted the 33-year-old woman while attempting to rape her in Blackburn last September.
He previously admitted grievous bodily harm with intent and was jailed at Burnley Crown Court.
The assault, which the victim described as "horrific", has left her permanently disfigured, said police.
She suffered a fractured jaw, a bleed on the brain and a number of lost teeth and also suffers recurring headaches.
In a statement, the victim said she had not physically recovered and was "always looking over her shoulder".
'Truly horrifying'
Det Sgt Mel Kelly, from Lancashire Police, said: "This was one of the most vicious and brutal attacks I have ever witnessed.
"It is little short of a miracle that the victim was not more seriously injured or even killed and in fact the victim herself believed during the attack that she was going to die.
"The CCTV footage of this assault is truly horrifying. I would again like to commend the victim for having the strength to support the prosecution to see justice served against Carrington who is clearly an extremely dangerous man."
In March, Carrington was convicted of the attempted rape and sexual assault on George Street West having already admitted the wounding charge.
He was given 10 years for the assault, with an extended licence period of four years as well as five years for the attempted rape and two years for the sexual assault, to run concurrently.