World Cup 2018: Burnley barber to trim England footballers' hair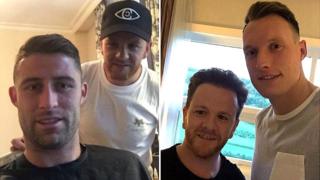 A barber from Burnley has earned a World Cup call-up to trim the hair of England footballers in Russia.
Simon Townley is due to fly out to St Petersburg following the Three Lions' opening clash with Tunisia.
Phil Jones and Gary Cahill will be among those having their barnets tamed at the team hotel in Repino.
The Lancashire stylist also hopes to snip striker Harry Kane's mane and has promised not to leave the team too short at the back - and sides.
A safe pair of hands with the scissors, Mr Townley could also go to work on goalkeepers Jack Butland and Nick Pope.
It all came about after the 32-year-old began regularly snipping Burnley shot-stopper Tom Heaton, who recommended him to fellow footballers.
It was Manchester United defender Phil Jones who then arranged for him to join the squad in Russia on Tuesday.
Mr Townley said: "I already cut four of the lads' hair and I really hope to get some of the others. My dream would be Harry Kane.
"Normally they put their heads round the door when they find out what's happening.
England's bold haircuts
From Sir Bobby Charlton's comb-over to Rio Ferdinand's corn rows, England's footballers have sported some eye-catching cuts down the years
The 70s and 80s saw an explosion of style not least on the heads of Kevin Keegan, Chris Waddle and striker Mark Hateley
In the 90s and noughties, there was a trio of Davids' with Beckham sporting an array of styles, supported by goalkeepers Seaman and James
"I don't use the normal hairdressing questions with the players about where they're going on holiday and things.
"We end up talking about football and about the other countries like Brazil."
He added: "The players aren't having their haircuts for superstitious reasons. They just like to look good and they relax and it makes them feel good.
"We also talk about their families as I've been to their houses and met their families.
"I hope to stay for a few days. I'm paying for my own flights but the players make it worth my while. Perhaps I'll be the team's lucky charm."