Gang trafficking Romanian women into Lancashire jailed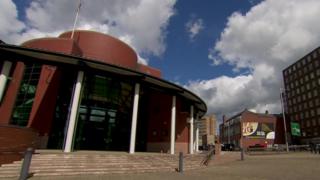 A human trafficking gang who smuggled Romanian women into the UK then "traded them among brothel owners" has been jailed.
Lancashire Police said the gang were part of a large network operating brothels across the country including Preston and Blackburn.
Five men and a woman admitted conspiracy to arrange the travel of women for the purposes of exploitation.
They were jailed for between 14 and 44 months at Preston Crown Court.
The sentences were:
Catalin Mihalescu, 44, of Wadeson Road, Manchester - three years and eight months
Ionel Sandu, 33, of Carlton Road, Blackburn - three years and four months
Florin Rusescu, 44, of Hightown Road, Luton - two years and seven months
Maria Badalescu, 33, of Harcourt Street, Luton - two and a half years
Andrei Carabet, 28, of Mosley Street, Blackburn - two years and one month
Valentin Poiana, 40, of Manchester Road, Preston - one year and two months
Rusescu's sentence included a month for possession of a prohibited weapon - a Taser - which he also pleaded guilty to.
A seventh member of the gang Mihai Nicolescu, 33, of Freehold Street, Northampton, pleaded guilty to encouraging exploitation and was jailed for nine months on Wednesday at the same court.
Police said six women were rescued and a number of items linked to the sex trade, along with cash and firearms, were seized after a series of raids in November.
Sgt Stu Peall, from Lancashire Constabulary, said: "[The victims] were treated as commodities and were traded among brothel owners without any regard for their wellbeing or human rights.
"When they were no longer wanted they were moved to a different location where they were put to work in the sex trade again."
Police said a "harrowing diary" found at one of the properties revealed the "emotional torture" of one of the victims who had come to the UK believing she was in a relationship with her captor.
In it she wrote: "I thought that the sun will eventually shine in my life but I was wrong and the mist doesn't seem to want to go away.
"I feel sad and tired, ill and fragile. I feel like I'm suffocating. My arms are heavy and my legs are numb, my head aches and it gets worse when I think about all the women around him."