Winter Hill TV mast fire: Man arrested as blaze continues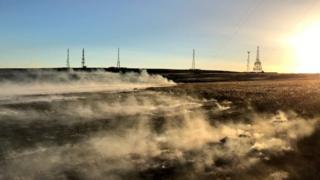 A man has been arrested on suspicion of starting a moorland blaze on Winter Hill in Lancashire, close to a TV transmitter mast.
Lancashire Fire and Rescue Service went to the moorland fire on the hill near Bolton at 15:20 BST on Thursday.
A 22-year-old man from Bolton is being held as part of a joint investigation between the fire service and police.
Greater Manchester Fire Service said it was tackling a second fire in Bolton which broke out on Friday morning.
Lancashire fire crews, who had been in a reserve role supporting colleagues in Greater Manchester dealing with a huge blaze near Saddleworth Moor, were moved to the Winter Hill fire on Thursday evening.
The fire, which crews were expected to be at until Saturday, covers an area of about 1.5 sq miles (4 sq km).
Work on the Saddleworth fire, which spread across 7 sq miles (18 sq km), saw soldiers from A Company of the 4th Battalion, Royal Regiment of Scotland, join firefighters on Thursday.
Eighteen fire engines remain at the scene on Winter Hill, including crews from Cumbria and Merseyside, alongside specialist wildlife units.
About 100 firefighters, who resumed their work at first light, are being assisted by mountain rescue officers and a helicopter from water firm United Utilities (UU).
The aircraft will be taking water from the nearby Rivington Reservoir to drop on the affected area.
A fire service spokesman said while there was no immediate risk to livestock, domestic properties or infrastructure, people living nearby should keep windows and doors closed.
The latest fire to affect moorland around Greater Manchester broke near to Horrocks Moor Farm on Scout Road at 02:00 BST.
Fifty firefighters were at the scene of the fire, which spanned 2km in length.