Moorland fires: Exclusion zone at Winter Hill blaze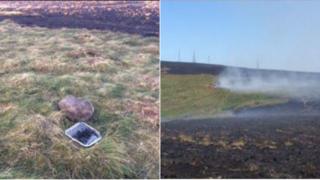 Firefighters tackling a huge moorland blaze have created an exclusion zone to encourage people to stay away.
Lancashire Fire and Rescue Service said it is concerned people are going to the site after a used disposable barbecue was found on unburnt land nearby.
The zone covers three sq miles (eight sq km) from Pigeon Tower, Rivington, to Wilton Quarries near Bolton.
About 100 firefighters continue to battle the fire in Winter Hill, Lancashire, a week after it began.
Lancashire fire service tweeted: "With more fine weather to come over the next few days and into the weekend, @BoltonMRT have provided this.
"It shows the areas we need people to stay clear of; not only for public safety but to help us maintain the progress we've made so we can give you back full access ASAP".
Steven Fletcher, Bolton Mountain Rescue team leader, said the exclusion zone is there to "stop people disturbing the ash by walking on the burnt area" and possibly rekindling the fire by giving it more oxygen.
Firefighters have also begun digging trenches in advance of an expected change in wind direction.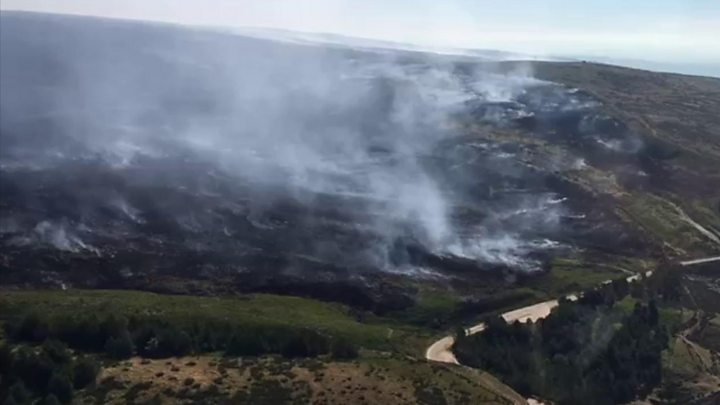 Mr Fletcher said the wind is now coming from the west after a spell of easterly gusts, which presents worries for woodland near the A675 (Belmont Road).
Steve Morgan from the fire service said crews are using an excavator to form a "control line" of trenches, which acts as a fire break in case the wind changes direction.
He said "it beggars belief" someone would use a barbecue, which had the potential to cause another huge fire.
"After everything we've been trying to communicate... I was disappointed", he said.
Another blaze that continues to burn on Saddleworth Moor is being treated as arson after people were seen lighting a bonfire on the moors near Stalybridge, Greater Manchester Police said on Wednesday.
On Wednesday, the London Fire Brigade sent 36 firefighters to help while others from Nottingham, Tyne and Wear and the West Midlands are in attendance.
Follow BBC North West on Facebook or on Twitter. And we would love to hear your story ideas - please email northwest.newsonline@bbc.co.uk.