Scissor baby murder mum Rachel Tunstill in conviction appeal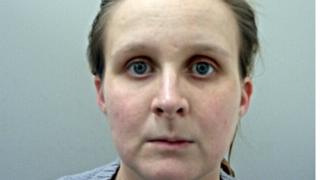 A woman who was jailed for murdering her newborn baby with a pair of scissors has begun an appeal against her conviction.
Rachel Tunstill, 26, killed Mia Kelly soon after giving birth to her in the bathroom of her flat in Burnley.
Tunstill denied murder but was convicted by a jury at Preston Crown Court in June 2017 and jailed for life.
Her lawyers told the Court of Appeal, the jury should have had the option of convicting her of infanticide.
Before the killing care worker Tunstill, who has a degree in psychology and a masters in forensic psychology, asked her partner of nine years to hand her the scissors.
At the time he had no idea she had just given birth, the court heard, and handed her the scissors through the bathroom door.
In response, Tunstill simply said, "Thanks babe" and closed the door.
Infanticide is a charge bought rarely and is defined as the killing of a child aged under 12 months by his or her mother, while the parent's mind is "disturbed".
It does not necessarily result in a life term, which is mandatory in murder cases, and in recent years has often led to non-custodial sentences.
Lord Justice Treacy, Mrs Justice Yip and Judge Geoffrey Marson QC reserved their judgment on Tunstill's appeal until a later date.