Cows' feet dumped at Downham and Pendle beauty spots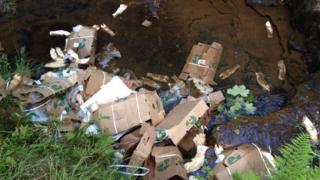 Up to 80 boxes of rotting cows' feet have been found dumped in a stream at a Lancashire beauty spot.
They were discovered on Sunday by a couple as they walked near the village of Downham in the picturesque Ribble Valley.
An investigation is now under way, with the labels on the boxes indicating they were sent to the UK from Spain.
Heber Hargreaves said he could see maggots floating downstream from the "foul, rotting flesh".
"To think that further downstream there could be children playing in that water it's sickening," he said.
"There will be animals and livestock drinking out of that stream as it makes its way into the River Ribble.
"To dump anything is bad, but to dump that sort of matter into a watercourse is absolutely appalling, it beggars belief."
He said he counted about 40 boxes either side of the bridge near Pendle Hill, suggesting "someone pulled up and slung them over as fast as they could", adding the "stench was awful".
A Ribble Valley Borough Council spokesman said: "As soon as we were made aware of the fly-tip, we responded immediately.
"We are working with the landowner to get the meat removed and have informed the Environment Agency.
"This is a particularly appalling fly-tip and we are working with partner agencies to ensure the culprits are caught."
Pendle Council confirmed more boxes were found dumped at a second location in Pendle.
The Food Standards Agency said it was looking to trace the supplier of the products from the Spanish authorities.