Lancashire council upholds unstunned halal meat ban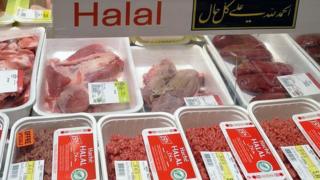 Councillors in Lancashire have voted to stop supplying halal meat from unstunned animals to schools.
A decision by the county council in October was put on hold pending a consultation period following opposition from the Lancashire Council of Mosques.
The latest decision affects the supply of halal meat by the council's catering service to 27 schools.
The policy begins at the start of the new school term in September.
The council's cabinet considered reports outlining the background to the issue, as well as an independent analysis of responses received during the four-week consultation held earlier this year.
It had more than 8,500 responses, two thirds of which "strongly disagreed" with the policy.  
Lancashire County Council leader Geoff Driver said: "It is clear that there is much debate about what constitutes halal, with different approaches taken by religious certifying authorities within the UK, and other standards applied elsewhere in the world."
He said the council accepts that "a small number of schools may choose to use different suppliers for halal meat".
"However we hope that people understand how the council has arrived at this decision, which has been taken solely on the grounds of animal welfare with due consideration for the impacts outlined in the responses to the consultation," he added.
But Labour opposition leader Azhar Ali claimed: "The animal welfare issue, which is important to all of us, is being used as a tool to make a particular decision today."
Abdul Hamid Qureshi, chief executive of Lancashire Council of Mosques, said they would be meeting to decide how to respond to the decision.
"This is a very sad decision. It is discrimination, it is dictatorial - two thirds of the people surveyed said they did not want a ban," he added.