Blackpool Pleasure Beach offer for smoking mums-to-be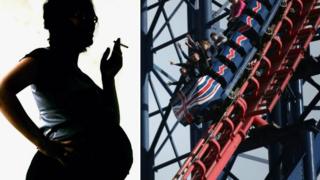 Pregnant women are to be given incentives including theme park vouchers in a scheme which aims to encourage them to quit smoking.
The project is part of a wider drive to reduce smoking in Blackpool, and has been backed by councillors.
It will see support workers monitoring women's carbon monoxide levels to prove they have quit.
Recent NHS data showed the Lancashire seaside town has the highest rate of smoking during pregnancy in England.
Women will receive vouchers accepted by the town's Pleasure Beach theme park, many high street shops and the Madame Tussauds waxworks.
They cannot be spent on cigarettes and alcohol.
Blackpool Council believes the new stop smoking campaign could help more than 800 people give up every year.
It will offer more support to all smokers, including advice on nicotine replacement treatments and access to helplines.
However, the scheme, which was approved by the authority's adult social care and health scrutiny committee, has been criticised by some groups.
The Royal College of Midwives said it believes the approach is "expensive" and there should be "greater investment in prevention", especially before women become pregnant.
Sara Rainwater, of the Taxpayers Alliance pressure group, described the incentives as an unnecessary "bribe".
She said: "As a mother who didn't smoke during pregnancy, I don't believe public money should be used to bribe new mothers to make the same decision."
According the NHS data for the period between October to December 2017, 27.8% of expectant mothers in Blackpool smoked until they gave birth - the highest rate in England.