Fracking firm Cuadrilla complete second Preston New Road well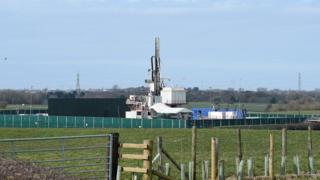 Final preparations for fracking are to begin at a site in Lancashire following the completion of a second well, an energy firm has said.
Cuadrilla, which finished a first well at Little Plumpton in April, will start fracking once it has final government consent, a spokesman said.
He added that the firm expected to get that consent "imminently".
A trespassing ban at the site, which has seen numerous protests, was recently extended for two years.
Environmental charity Friends of the Earth has sought a judicial review over the Environment Agency's decision to allow hydraulic fracturing - or fracking - and is awaiting a decision on their application.
A Cuadrilla spokesman said it would take a few weeks to dismantle the drilling rig, but much of the equipment to prepare for fracking was already on site.
He said the firm had previously applied for consent to frack in the first well from the Department for Business, Energy and Industrial Strategy and would now apply for the second as well.
He added that the company expected to receive consent for the first well "imminently".
Mr Egan said subject to consent being granted, "we plan to fracture the shale rock around these wells over the coming months and test the flow rates of natural gas from the shale".