Lager the secret to long life for 100-year-old Eileen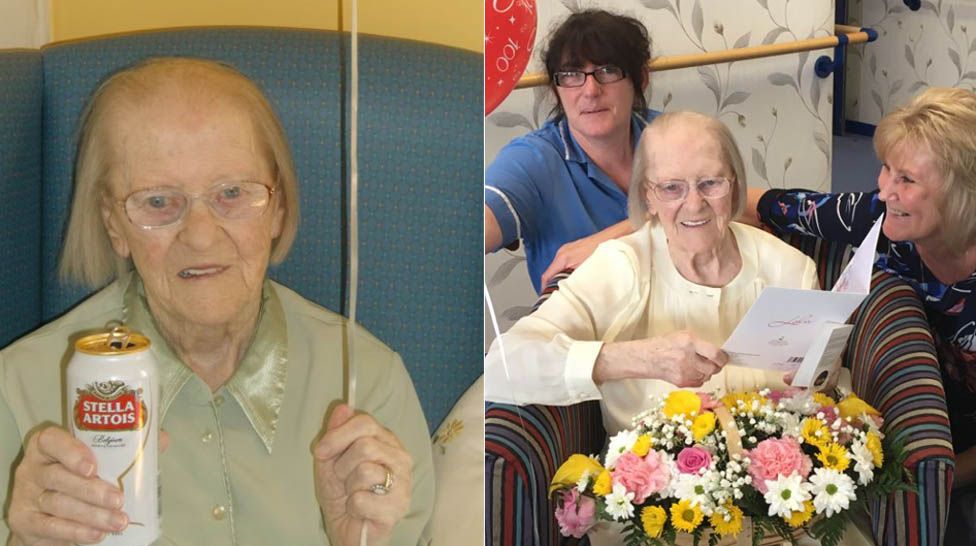 A can of lager and a packet of custard creams are the secret to a long life for a Blackpool woman celebrating her 100th birthday.
Eileen Maher, a former weaver who is originally from Darwen, marked her milestone at Princess Alexandra Home in Blackpool, where she currently lives.
She proved you are never too old to party or pout as she celebrated with her trademark Stella and biscuits.
"She is a very special lady," said Elaine Wright, a manager at the home.
"Eileen said she just wanted her telegram from the Queen - and to feel loved by everyone here. That's no hardship."
She said the new centenarian - who married Frank a jazz pianist at the age of 33 - enjoyed her cake and sherry but would not be without her daily dose of Stella and custard creams.
"We always have a supply of Stella just for Eileen," said Ms Wright.
Mrs Maher has lived in Blackpool since she went there on honeymoon in 1951 with her late husband and never went home.
Mrs Maher posed for her first ever selfie with staff at the home, where she has lived since May 2015.
She also danced with her late best friend's daughter Pauline Green who travelled up from Surrey for the occasion.
"I didn't expect a party for my birthday but it's lovely - especially being sung to," said Mrs Maher.
"It's been so exciting. I don't sleep well but I will tonight."
Mrs Green said her mother and Mrs Maher - who is 30 years older than the NHS - were inseparable and she sees her as her auntie.
"She's a wonderful lady and she's had - and has - a very full life. She's very important to me."
Related Internet Links
The BBC is not responsible for the content of external sites.