Winter Hill moorland fire continues to burn despite rain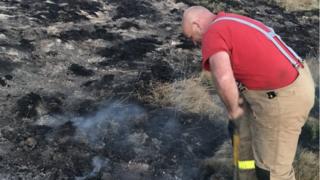 The moorland fire on Winter Hill near Bolton is continuing to burn despite recent rain, the fire service said.
The blaze broke out on 28 June with hundreds of firefighters tackling it.
Lancashire Fire and Rescue Service said crews are dealing with isolated hot spots of burning peat and that rain has been of "insufficient volume" to fully extinguish it.
A wildlife expert said the effects of another fire, near Saddleworth Moor, could last for up to 15 years.
Dave O'Hara, site manager for RSPB Dove Stone, said the fire will have a "lasting effect", particularly on the insect population, but the site will recover.
"Nature does have great powers of recuperation even if it is horrific at the time," he said.
The fire near Saddleworth burned for three weeks and crews left the scene last week.
Lancashire Fire and Rescue Service (LFRS) said the recovery of hundreds of lengths of hoses from the 18 sq km Winter Hill site has been a major task.
All of the hoses, including those belonging to other services involved in the response, have been collected and taken to its training centre to be tested, cleaned and repaired.
LFRS said the emergency response is "progressing steadily to conclusion".
It added that the work involves digging down to the burning peat to ensure water reaches it.
The fire was brought under control last week.