Residents in 'parking chaos' area earn £5 to rent drives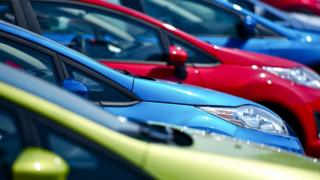 Residents living near a Blackpool government office where parking has become a 'huge problem" have been asked to rent out driveways for £5 a week.
The plan emerged in response to streets near the Department for Work and Pensions (DWP) office in Warbreck Hill Road being regularly clogged with cars.
The DWP site has parking for just 1,000 of its 3,000 civil servants.
Local councillor Christine Wright said residents were "frustrated" at being unable to park outside their homes.
She said residents told her that if they pop out to do the school run, when they return they are unable to park near their properties, adding that it had become "a huge problem".
She launched the scheme in a local newsletter and has a meeting with the DWP on 2 August.
Councillor Wright said: "It is worth giving it a go. We've nothing to lose."
No residents have signed up to the scheme yet.
Car sharing
The DWP says it also has an additional 110 parking spaces in a nearby car park of an old school.
The government department said it would work with the council to explore alternative parking options.
The DWP statement added: "We have recently reviewed our parking policy and increased the amount of on-site parking to the maximum we can whilst maintaining health and safety standards, creating an additional 110 spaces.
"Other initiatives such as reviews of the pass allocation, reserved parking systems and car sharing have also created significant numbers of additional spaces."