M6 closed in Lancashire as lorry crashes into bridge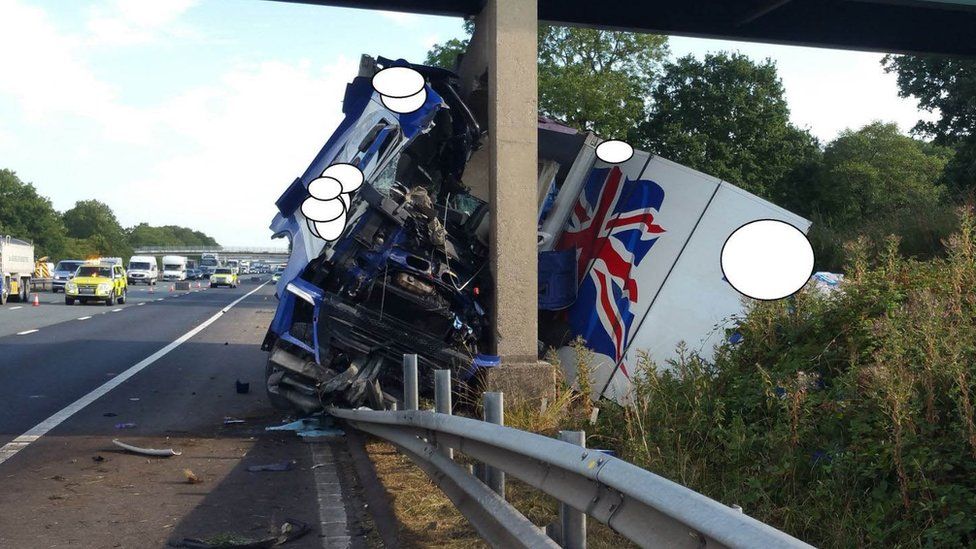 The M6 has been closed in both directions in Lancashire after a lorry crashed into a bridge, leaving hundreds of drivers caught up in delays.
It happened between junctions 33 at Galgate, Lancaster, and 32 at Broughton, Preston, at 06:45 BST.
The lorry driver was taken to hospital but was "doing fine", police said.
A support prop will be installed and structural tests carried out overnight but the motorway is likely to remain shut throughout rush hour on Friday.
The crash cracked the cattle bridge's stanchion and was now "the only thing holding it up", a Lancashire Police spokesman said.
Shortly after 21:00 Highways England said nobody was "stuck" on the motorway but drivers travelling south are still facing delays of about 75 minutes.
There is also a 10-minute delay on the northbound carriage.
The lorry had been carrying a load of 'Wagon Wheels' biscuits and other confectionary.
The closure affected traffic heading to the Kendal Calling music festival near Penrith, and Burnley fans travelling north to Aberdeen for their Europa League clash.
Insp Andy Trotter said the lorry was "embedded" in the bridge.
Officers have been handing out bottles of water and sandwiches donated by supermarkets to drivers.
Writing on Twitter, motorist Adi Fawcett thanked the force for the "cold water" he had been given "on a ridiculously hot day".
@LancsPolice thank you for bringing us cold water whilst stuck in the M6/A6 traffic chaos on a ridiculously hot day 👍🏼🚔

— Adi Fawcett (@adi_fawcett) July 26, 2018
Other drivers have also tweeted their gratitude to officers who offered refreshments to families.
A Highways England spokesman warned drivers that surrounding roads were "extremely busy and slow-moving" and advised people to beware of the heat and stay hydrated.
The incident has also affected traffic on the M61 as well as the M55 and A6.
Drivers have been advised to find alternative routes or delay their journeys.
We're doing welfare checks & handing out water on the #M6 (between Junctions 29-32 Northbound and Junctions 34 and 33 Southbound) and also on the A6 from Preston past Garstang and on to the M6 junction. Thanks so much for everyone's patience and support - we appreciate it 👍 👍 pic.twitter.com/Frv10FcqVi

— LancsPolice (@LancsPolice) July 26, 2018
Darren Wilson, who was travelling to the Kendal Calling festival described the disruptions as "chaos".
Meanwhile, Burnley football supporters travelling north were advised by the club to find alternative routes.
Clarets fans heading north please note that the M6 is closed northbound between junctions 32 and 33.

— Burnley FC (@BurnleyOfficial) July 26, 2018
People heading to Kendal Calling were urged to consider using the M1 and A1, before joining the M6 at Penrith via the A66.
Phil Stockford, of Highways England, thanked drivers for their patience during what he said would be a "delicate operation" to support the bridge while the lorry and support pillar can be removed.
He said: "We'll be working this evening and overnight to do this but will not open the motorway until we are satisfied that we have removed the risk of the bridge collapsing.
"We're hoping to have this temporary arrangement in place and the motorway open by around 9am."
He added: "In the meantime drivers should avoid this section of the M6 if at all possible and look for alternative routes or delay their journeys."
Related Internet Links
The BBC is not responsible for the content of external sites.