Repairs to be made to Blackpool's £27.1m sea wall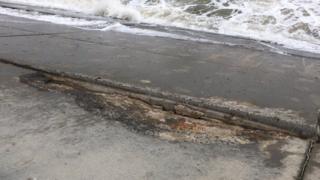 Repairs will be made to Blackpool's "recently completed" £27.1m sea wall to rectify surface damage.
The defences were opened in November 2017, but contractor Balfour Beatty said it would need to do remedial work at Anchorsholme in September.
The Environment Agency said the "very localised" problem would not affect the wall's protective capabilities.
Blackpool North and Cleveleys MP Paul Maynard said it was "important to establish what has gone wrong".
Concerns were originally raised about the defences, which were built to reduce the flood risk to 4,800 properties, after storms caused wall panels to lift on the day of its official opening.
A Balfour Beatty spokesman said the flood defences would "remain fully safe and secure at all times" and any required remedial work would be "undertaken at no additional cost to the taxpayer".
He added that the firm had been "investigating water leakage from a joint in the scheme", which had subsided but would be closely monitored to "determine what further action may be required".
Mr Maynard said he wanted the government to investigate what had gone wrong.
"Significant amounts of public money went into this scheme and I am worried it appears to be deteriorating so soon after work was completed," he said.
"It is important to establish what has gone wrong and for any remedial action to be completed as soon as possible."
Councillor Fred Jackson, who has responsibility for environmental services in Blackpool, said it was not unusual for "additional work" to be needed on such a large scheme.