Lancashire residents 'used for fracking experiment'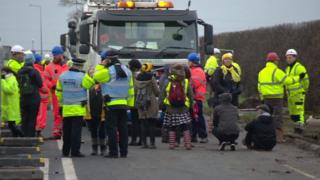 A government minister has been accused of using a fracking site in Lancashire to "experiment" on residents nearby.
Two doctors have used an open letter to question Energy Minister Claire Perry's ethics and ask whether local people were being "used as guinea pigs".
They also accused the government of delaying a fracking report until after it approved Cuadrilla's extraction of shale gas in Lancashire in July.
Industry representatives insisted the risk to public health was low.
Dr Barbara Kneale and Dr Francis Rugman noted in the letter that a report by scientists stated the effects of fracking on human health would only be known after the first commercial wells had been established.
The report was prepared for the Department for Environment, Food and Rural Affairs in 2015 by the Air Quality Expert Group, made up of academics, but was only published three days after permission was granted for fracking in Little Plumpton.
The doctors said the Cuadrilla site would be used as a "prospective observational study" into the effects of toxic chemicals on human health.
Their letter posed the question: "Are human receptors (i.e. Fylde residents) to be used as 'guinea-pigs'?"
'World-leading regulation'
The site at Preston New Road has been the focus on long-running demonstrations by anti-fracking protestors who object to hydraulic fracturing - in which liquid is pumped at high pressure deep underground to fracture rock and release gas.
Several arrests were made after permission was granted last month.
Cuadrilla applied for a second licence for a second well at the same site on 3 August.
A spokesman for industry body UK Onshore Oil and Gas said it believed the doctors had misunderstood the regulatory process.
He said: "There have been a number of reports on health issues in England, Scotland and Wales all of which have concluded the risks are low and manageable in a properly regulated industry."
A spokesperson for the government said: "Shale gas has the potential to be a new domestic energy source, further enhancing our energy security and continuing our transition to a lower-carbon economy.
"The UK has world-leading regulation to ensure that shale gas can be explored safely and ensure there is no risk to public health."