Tax office bags Preston fraudster's £70k poker win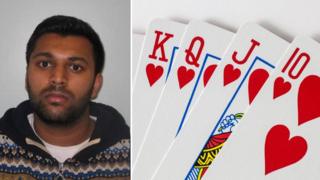 A convicted fraudster who won £70,000 in a poker tournament has been ordered to pay the cash to the tax office.
Adam Lulat was jailed for 28 months in 2015 for his involvement in a £40m money laundering scam and VAT fraud.
He was part of a six-man gang ordered to repay £590,000, although Lulat only had to repay £1 as he had no assets.
But the 26-year-old, of Preston, has been brought back before the courts after his win and ordered to hand the total amount to HM Revenue and Customs.
Lulat had won £68,930 at the poker tournament in Manchester in March.
A HMRC spokesman said: "Lulat thought he'd aced the tournament but we had the better hand in the end."
Criminal cash
During a hearing at Manchester Crown Court, he was also ordered to hand over £2,840 held in a personal bank account within three months or face another 15 months in jail, HMRC said.
Lulat was a part of a gang that worked for other crime groups moving about £40m of illicit cash through a variety of bank accounts in the UK and Europe in 2010 and 2011.
They were also behind a separate VAT fraud and investigators tracked their activities across Germany, Poland and the Czech Republic.
The gang had fabricated businesses to make fraudulent VAT repayment claims against a several EU member states using a complex web of transactions.