Fracking firm Cuadrilla breaches waste management permit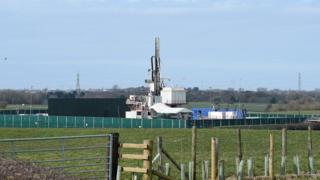 A fracking firm breached its waste management permit, government inspectors found.
Cuadrilla received the government's go ahead last month to allow fracking of the first well at its Preston New Road site in Little Plumpton, Lancashire.
It said it hoped to begin fracking there next month.
The Environment Agency (EA) said it was "satisfied" with its overall audit but identified six areas to improve, which Cuadrilla said it had addressed.
The EA report follows an inspection conducted between December and March.
Fracking opponents Friends of the Earth want a judicial review over the EA's decision to allow hydraulic fracturing - or fracking at the Preston New Road site.
A spokesman for the environmental charity, Connor Schwartz, said: "The industry is supposed to be gold standard but time and again the Environment Agency themselves keep identifying areas that aren't up to scratch.
"It's about faith in the industry and it's easy to see why for locals, that trust is very, very low."
An EA spokesperson said it was "committed" to ensuring shale gas operations meet the highest environmental standards and they "can only go ahead if they are safe for people and the environment".
"We are satisfied the audited waste streams were removed offsite to appropriately permitted waste facilities, for treatment and disposal in line with sound waste management practices."
The EA said recommended improvements had been implemented.
Regular on-site checks and audits will be carried out to ensure Cuadrilla, which now has two wells at its Preston New Road site, meets its obligations, the spokesperson added.
Cuadrilla said it had already addressed the "relatively minor non-compliance issues" highlighted in a very detailed "cradle to grave" audit.
A spokesman said none of the breaches "impacted on how the waste should have been or was... treated".
A trespassing ban at the Preston New Road site, which has seen numerous protests, was recently extended for two years.