Egypt hotel deaths: 'Something in room killed my parents'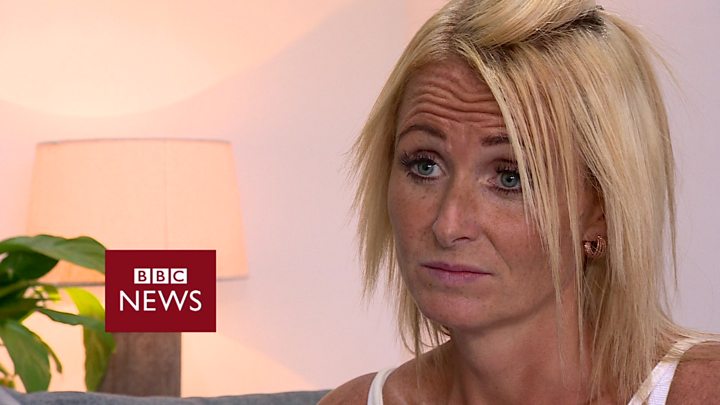 The daughter of a British couple who died during a stay at an Egyptian hotel has insisted something in their room killed them.
John Cooper, 69, and his wife Susan, 63, from Burnley, Lancashire, died in Hurghada on Tuesday.
Egyptian investigators said on Saturday no traces of toxic gas had been detected in their room.
The couple's daughter Kelly Ormerod told the BBC how she found them both seriously ill in the room.
Ms Ormerod said her daughter went to her grandparents' room after the meal.
"My daughter said they could smell something that was a little bit funny that wasn't right.
"All they did was spray a little bit of perfume to try to eliminate the smell."
Ms Ormerod said her parents did not come down to breakfast the following morning so she went to check on them in their room.
"As I opened the door, I could see that my dad was extremely ill and he was staggering back to the bed."
He told her he felt "really, really poorly" and was very lethargic and vomiting a lot.
Her mother was lying on the bed.
Speaking from her Burnley home, Ms Ormerod who had been on holiday with her parents and her daughter, said the couple were "fit and healthy" and had no long-term illnesses.
"While I was on holiday, a lot of people got the Egyptian tummy, they didn't even get that.
"The evening before we went to bed, we were all having a lovely family meal and they were fit and healthy."
She said two doctors attended to her father in the hotel.
"They didn't really see to Mum because they could see that Dad was more ill and he took priority.
"They tried basically to save his life and they couldn't - they did CPR on him but nothing could help him, nothing could save him.
"Mum had no idea what was going on - she was oblivious to what was actually happening because she was so poorly."
Her mother was taken to hospital where she died later.
Ms Ormerod said: "I don't think it was specifically an individual's fault for the deaths.
"I think when they went back to that room that evening there was something in that room that's actually killed them - whether they've inhaled something that poisoned them, I don't know.
"I can only have my opinion on what's gone on, but there's something that happened in that room that killed my parents."
'Get to the cause'
On Saturday, Egypt's public prosecutor Nabil Sadeq said all the installations in the couple's room were safe and that the equipment was functioning without fault.
The tourism ministry said a medical examination showed Mr Cooper "experienced an extreme drop in the blood circulation and a sudden stop of the heart muscle".
The cause of Mrs Cooper's death was reported as a "halt of blood circulation and her respiratory functions".
Egyptian authorities expect the results of forensic examination of samples taken from the bodies within seven to 10 days, judicial sources told the BBC.
Tour firm Thomas Cook said it was "doing everything to support the family and to support the Egyptian authorities... to get to the bottom of it and to get to the cause".
Chief executive Peter Fankhauser said: "There is no evidence that it is a carbon monoxide poisoning.
"We have no evidence, but I don't want to rule out anything before I really know the cause."
Following the deaths, Thomas Cook flew some holidaymakers back to the UK "as a precaution".
Mr Fankhauser confirmed that 13 customers had food poisoning, but were not in a serious condition.