Burglars abandon Rawtenstall bank tunnel raid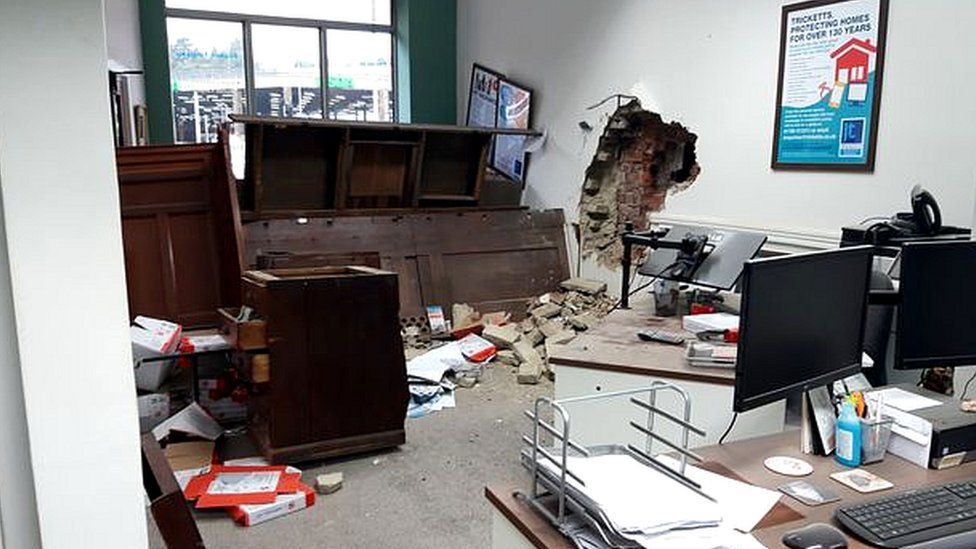 Burglars tried to tunnel their way with chisels into a bank to steal from two cash machines, but left empty handed.
They broke into an insurance broker in Rawtenstall with the aim of tunnelling into a neighbouring branch of Santander, police believe.
They apparently abandoned the robbery attempt, instead making off with £20 in petty cash from Tricketts Insurance.
Tricketts director, Janine Packman, said it was thought chisels were used to dig the tunnel.
"Nobody knows why they didn't steal from the ATMs," Ms Packman said.
"It could be they couldn't open the cash machines or they were waiting to come back."
Lancashire Police are investigating the aborted raid, which happened on 26 August.
Ms Packman said: "Police have told me there is no sign that they used power tools and think they must have used chisels."
She discovered the break-in by chance when she called into the office on Sunday 26 August .
Ms Packman said she found a ransacked premises and debris from the hole in the wall caused by the burglars.
"I was totally shocked when I arrived, I couldn't believe it," she added.
A Lancashire Police spokeswoman said the force received a call about a suspected burglary at a commercial premises on Bank Street, Rawtenstall around 14:00 BST on Sunday 26 August.
Related Internet Links
The BBC is not responsible for the content of external sites.