Egypt hotel deaths: Inquests opened for couple who died on holiday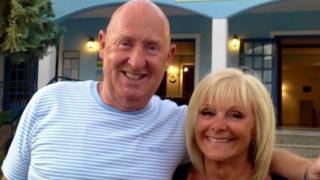 Inquests into the deaths of two British holidaymakers who died at a holiday resort in Egypt have been opened and adjourned.
John Cooper, 69, and his wife Susan, 63, from Burnley, died in the Red Sea city of Hurghada on 21 August.
Egyptian post-mortem examinations found E. coli was a factor in their deaths.
At Preston Coroner's Court, Coroner Dr James Adeley said he had ordered further toxicology tests to be carried out.
The court heard Mr and Mrs Cooper had been staying at the Steigenberger Aqua Magic hotel and had eaten at the hotel buffet the night before they were taken ill.
They had returned to their room to find an "acetone-type" smell, which led them to complain and remove their granddaughter from their room at about 01:15 because she said she was feeling unwell, the hearing was told.
Dr Adeley said it was a "different smell from earlier in the week [and] it was established the next door room had been fumigated".
'Months, even years'
The following morning, their family became concerned when neither of them had appeared by 11:00.
Det Insp Leah Rice said Mrs Cooper's normal routine "would usually be up six, six thirty, down to the pool to reserve sun beds for the day, then breakfast".
"However that morning she was not down for the sun beds," she said.
Dr Adeley said they were found ill in their room and the family called for help.
Two doctors arrived, but shortly after, Mr Cooper "collapsed in the room and could not be revived and was verified to have died at noon," Dr Adeley said.
Mrs Cooper was "variably lucid", he said, but had a heart attack in an ambulance on the way to hospital where her death was confirmed.
Dr Adeley said the Egyptian authorities had concluded that E. coli was a factor in their deaths, but added that he had been made aware of an expert who had suggested that it would not have produced such a rapid result.
He said he would be writing to the Egyptian authorities requesting all paperwork, reports and documentation relating to the case, but warned that requests to foreign countries "can take months, even years".
He added he had only received a single document from the Egyptian authorities, stating E. coli as a cause of death, and had no reports detailing toxicology, micro-biology, police or public health investigations.
Adjourning the inquest to a date to be fixed, he said he would also ask the hotel group running the hotel and Thomas Cook to supply "all the documentation".
---
How dangerous is E. coli?
By Philippa Roxby, BBC Health reporter
Any strain of E. coli capable of causing the couple's deaths so quickly would have been very toxic.
E. coli is a type of bacteria present in the gut of humans and animals.
Most strains are harmless - but some can cause cramps and diarrhoea, and others severe illness if damaging toxins are produced.
Prof Brendan Wren, from the London School of Hygiene & Tropical Medicine, says they were "very unlucky because these strains are very rare".
But E. coli has killed before, often after people have consumed contaminated food, such as meat, bean sprouts or salad leaves.
In these rare cases, the effects can be particularly nasty and the toxins can have an immediate effect.
The internal organs, like the liver and kidneys, are affected and simply start to shut down.
---
The couple's daughter Kelly Ormerod, who was at the hotel, previously told the BBC she did not believe the symptoms her parents had exhibited were consistent with an E. coli infection.
Speaking outside the court earlier, she said she was "very happy" with the way the hearing had gone.
She requested that people "leave my family be", and added that she would be "going home to prepare for a funeral tomorrow".