'Perverted and sadistic' deputy head teacher jailed for child abuse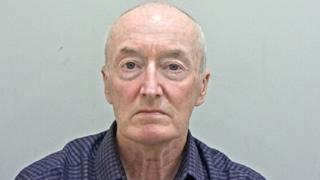 A "sadistic" deputy head teacher who abused girls and boys as young as seven has been jailed for 19 years.
Grahame Brennand, 71, molested the girls in the classroom and during swimming lessons while at St John's Primary School in Baxenden, Lancashire.
The paedophile was convicted of 43 counts of indecent assault at Preston Crown Court relating to 22 girls aged seven to 11 from 1973 to 1989.
He was also convicted of three counts of child cruelty relating to two boys.
The court heard he hung one boy on a coat hook and rubbed his nose in dog excrement.
Brennand also beat the other boy and repeatedly shut him in a cupboard.
Judge Philip Parry told him: "You made a career of being perverted and sadistic, almost in equal measure."
The judge said he had "systematically and brazenly" indecently assaulted young girls, and "beat, humiliated and demeaned" young boys.
Brennand was arrested after one victim reported the abuse in 2016 with more coming forward after a police appeal.
The court heard that "disciplinarian" Brennand molested girls at their desks and made them sit on his knee so he could abuse them at the school near Accrington.
Brennand would lean over the desks of pupils and press his groin into their back, the jury was told.
The paedophile, of Calder Avenue, Preston, also set up a 'First Aid Club' so he could touch the girls' inner thighs as he taught them how to make a splint for a broken leg, the jury was told.
'Very uncomfortable'
One former pupil, now 54, told the court: "I was hit on the head by a ball during PE.
"Mr Brennand put a wet cloth to my head but then started rubbing himself against me in front of the class.
"The way he was hugging me was very uncomfortable."
Another victim, who was ten in 1974, said Brennand had put his hand between her legs in class when he went to help her with her work at her desk.
She said: "This was a regular occurrence - maybe twice a week."
Lancashire Police said the actual number of offences committed by Brennand was close to 200, as many of the counts included multiple assaults on the girls.