Labour takes over scandal-hit South Ribble council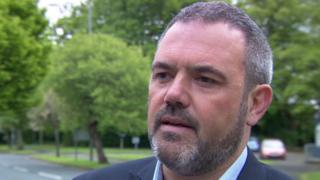 Labour has taken control of a Tory majority council following an "internal war" amongst Conservatives.
South Ribble Borough Council leader Mary Green resigned on Monday saying she had been subject to "threatening behaviour".
Labour councillor Paul Foster was voted the new boss at a meeting hours later after his party and Lib Dems formed a minority administration.
Mr Foster becomes the fourth leader in just over two years.
'Crying shame'
There have been claims of bullying, harassment, cover-ups and low staff morale at the authority following its "failures" in the handling of allegations children were sexually exploited by taxi drivers in 2016.
Earlier this month all 49 members of the council were reminded of "unprecedented" demands on officers after police were called over use of the f-word at a meeting.
They were told to use internal complaints procedures instead.
Nine Conservative councillors failed to show at an extraordinary meeting on Monday evening amid claims of a deliberate boycott.
Mr Foster said it was a "crying shame" about an "internal war" between the South Ribble Conservatives.
He said as he wants all councillors to go "back to basics".
"They've got to sort out their internal disputes. We need to work together for the benefit of the community."
Mike Stevens, BBC Radio Lancashire political reporter
Losing one leader may be regarded as a misfortune, to lose three in as many years looks like carelessness.
South Ribble Council has been mired in scandal since early 2016 and never seems to have recovered.
At the heart of the authority's problems, is a huge split in the ruling Conservative group.
As the council staggers and sways from leader to leader, there are many in the borough crying out for stability - urging councillors to get their act together.
The Local Democracy Reporter Service reported Ms Green was ousted as leader of the Tory group on Saturday and alleges she was the victim of a "character assassination" by her political opponents while receiving "no support" from some on her own side.
She had replaced Peter Mullineaux as leader in April over "cover up" claims.
He was elected leader in September 2016 after Margaret Smith resigned due to ill health.